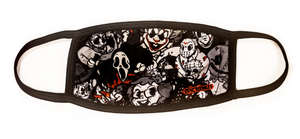 Spicy Donut Shop
Merry Murderers Mask
Regular price
$2.00
Sale price
$12.00
Unit price
per
Wear your horror fandom with pride on these masks with rubberhose inspired horror icons! Not responsible for crazy stares, even if they come from you.
Free stick on nose strip with purchase. (while supplies last)
Includes an extra pocket for filter
Made from soft breathable lycra

One size fits most, secures behind the ears 

Features ribbed binding and a reinforced hem For the ideal fit, wash after every use and let dry completely

Disclaimer: These masks are not medical grade and are not to take the place of the N95 masks. They are not suitable for use in a surgical setting or where there would be significant exposure to liquid, bodily, or other hazardous fluids, use in a clinical setting or use in the presence of a high-intensity heat source or flammable gas. Wearing a mask is not guaranteed to prevent transmission of disease and is not a substitute for other recommended disease avoidance measures.
---